CoAsia, 'SEDEX 2022' Semiconductor Exhibition, 'Electric Semiconductor' Platform Establishment
본문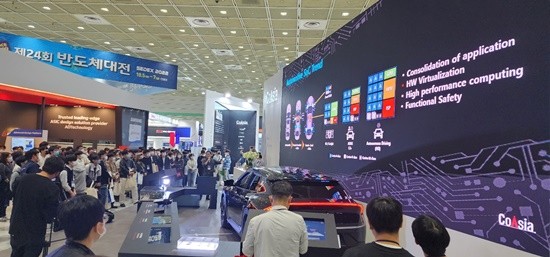 CoAsia, a system semiconductor design solution company, announced on the 13th that it successfully completed the semiconductor exhibition 'SEDEX 2022' held at COEX, Seoul for three days from the 5th.
SEDEX, which is held for the 24th time this year, is the only semiconductor exhibition in Korea, with about 250 companies participating. Over the three days, about 55,000 people participated, up 28% from last year. Not only industry officials, but also many college students participated, and companies started to attract talent and promote their companies. During the same period, the CoAsia booth attracted more than 2,500 participants to view the booth and exhibits and take a survey.
A company official said, "As a result of the survey conducted during the exhibition, participants showed a lot of interest in our global distribution network and preemptive investment to secure future human resources." I am delighted to have a seat," he said.
CoAsia introduced semiconductor design technology and its own practical education program (GDEC) under the theme of 'Automotive SoC Platform'. Subsidiaries such as CoAsiaSEMI, a system semiconductor design solution company, CoAsia Nexell, a system-on-chip (SoC) design company, and CoAsia Itswell, a light emitting diode (LED) company, also joined the CoAsia group.
CoAsia is responding to the demand for electronic semiconductors in line with the growing autonomous driving market. It is building a design platform for efficient SoC design for electric vehicles of major customers, global automakers, and is working hard to develop products related to driver assistance systems (ADAS) and infotainment (IVI). In addition, CoAsia Itswell is continuously expanding the smart LED business, which is expected to increase demand from customers.
Source: Pinpoint News (https://www.pinpointnews.co.kr)