DEEPX-Taiwan CoAsia Cooperates to Enter the East Asian AI Semiconductor Market
본문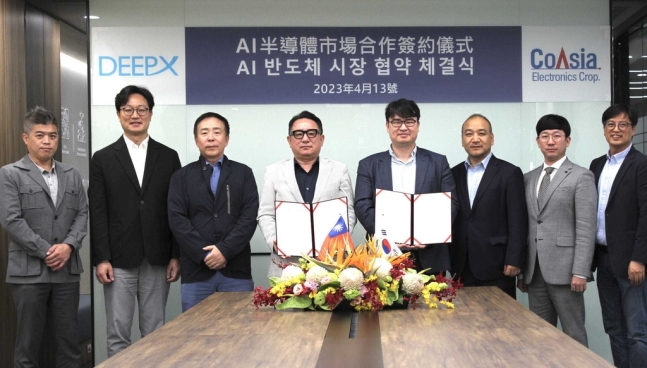 DEEPX (Seoul = Yonhap News) Reporter Lim Seong-ho = Artificial Intelligence (AI) Semiconductor Design Specialist (Fabless) DeepX signed a business agreement with CoAsia Group, a Taiwanese semiconductor distributor, to cooperate in entering the East Asian AI semiconductor market, with a focus on Taiwan and China ( announced on the 14th that they had signed an MOU).
The previous day, the signing ceremony held at CoAsia Electronics, a CoAsia subsidiary in Taiwan, was attended by Kim Nok-won, CEO of DeepX, and Shin Dong-soo, CEO of CoAsia Semiconductor Business Division.
CoAsia Electronics is a Taiwanese listed company with more than 300 global customers with annual sales of about 1 trillion won as an exclusive partner of Samsung Electronics' foundry division.
DeepX and CoAsia plan to start cooperation by meeting with AI product development customers that can produce mass-produced products based on AI semiconductors.
According to DeepX, Taiwan and China are markets with global competitiveness in the information technology (IT) hardware (OEM/ODM) sector, and have various consignment manufacturing-based ecosystems, serving as the world's IT hardware manufacturing headquarters.
DeepX explained that it confirmed that there are various companies in Taiwan that can make IT hardware using its independently developed AI semiconductor 'DX-L1, DX-L2, DX-M1 and DX-H1' products. It is also expected that cooperation in developing AI hardware systems with global companies headquartered in Taiwan will be possible.
CEO Kim said, "The battlefield for AI semiconductor technology will be the US and East Asia, and we will work with Core Asia to preoccupy the East Asian market." will start," he said.
CEO Shin said, "We will continue to cooperate with DeepX in the future AI industry for the success of K Semiconductor, including Samsung Foundry."
sh@yna.co.kr